With New Years parties and gatherings around the corner, I thought an appetizer round-up was in store. Here are some tasty and fun bite-sized snacks and treats from some of my favorite bloggers as well as the most popular appetizers from this site. Just click on the titles for the recipes.
Enjoy! And Happy New Years!
* * * * * * * * * * * * * *
A flavor-packed appetizer with zesty lime shrimp and a little kick of spice from ground chili powder all wrapped up in a crunchy wonton wrapper.
Good ideas: add some diced scallions or fresh cilantro - mix in some of the spicy shrimp sauce with the sour cream for extra flavor.
Chicken Salad with Peas in Celery Ribs
Love this idea. You could do any flavor of chicken salad like curry, or switch it up and make a tuna salad. You feel healthy just looking at all that green!
Mini Baked Brie Roll Ups
Creamy brie is rolled up in a buttery biscuit dough and baked until warm and gooey.
Good idea: To make them extra decadent add in your favorite brie pairing like caramelized onions or jam.
Mini Veggie Dip Cups
These single serving veggie cups are great for a party because the veggies and dip are all-in-one. Just take mini plastic glasses (found at a party store or grocery store) and place some dip (ranch or this homemade dill dip) in the bottom of each glass. Then fill with your favorite sliced veggies. Carrots, cucumbers, bell pepper, broccoli, celery, zucchini and tomatoes are all great veggies to use.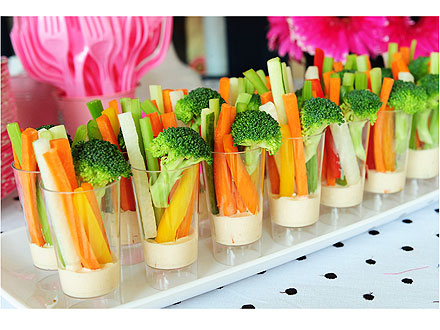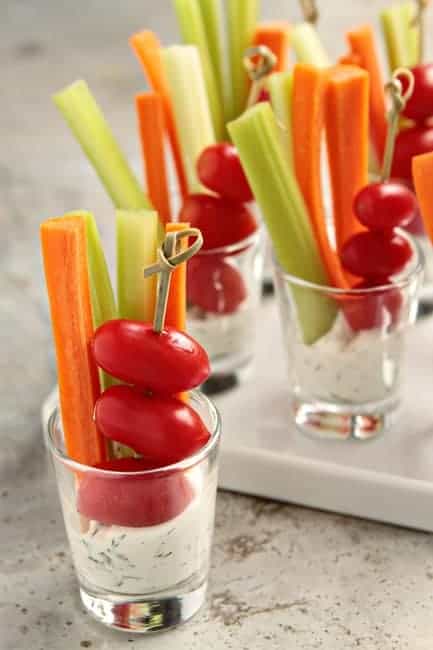 Mac N' Cheese Bites
Yum! Creamy Mac N' Cheese is baked into cute popable portions. These are great for kids and adults.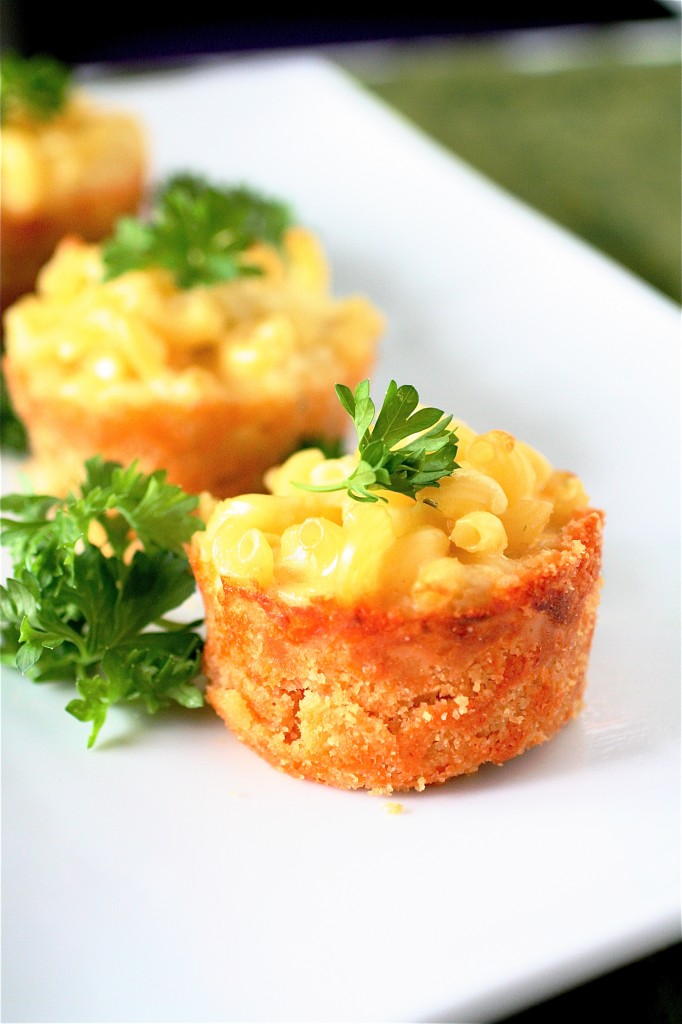 Cookie Dough Truffles
I love these eggless cookie dough truffles! They are super simple to make and kids and adults can't resist them. I've made them with sugar cookie dough (dipped in white chocolate), peanut butter dough and chocolate chip. All delicious!
Bruschetta
Always a hit. This simple tomato bruschetta comes from The Pioneer Woman.
Good ideas: Smear the toast with avocado or goat cheese.
French bread gets sliced and stuffed with cheese and your favorite toppings and then baked into ooey gooey cheesy perfection. This is a crowd pleaser for sure!
I love these macaroon cookies. They are tart, sweet and chewy and something different to add to your buffet.
A fun and festive appetizer that's as pretty as it is delicious. Part appetizer, part dip, part salad. It's all your favorite taco fixings surrounded by a yummy ring of meatballs wrapped in crescent rolls.
This dip is a delicious twist on the usual 7-layer mexican dip. With all the yummy Mediterranean flavors like kalamata olives, feta and tomatoes, it always gets gobbled up! Serve with crackers, pita or bread.
There's just something about mushrooms stuffed with sausage that people go crazy for. These ones are so simple to make and so good too!
Bars and cookies make for great party food because they're so easy to pick up and nibble on. No plates required. These bars are nice because they can be made ahead of time and you can use any flavor of jam you like.
Quick, easy, unique, tasty and impressive. There's something strangely addictive about these.
Sweet, salty, crunchy...this fabulous caramel corn disappears quickly. I wish I had some now!